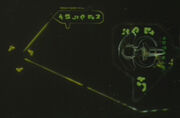 The Romulan language was used within the Romulan Star Empire.
Its written form consists of square and rectangular letters. The Romulan spoken language had three dialects, and was difficult to distinguish from the Vulcan language to those not proficient in xenolinguistics. (Star Trek)
Words and phrases
Edit
Language samples
Edit
Part of a Romulan self-destruct countdown aboard a Romulan Warbird:
Romulan ultimatum to the Enterprise NX-01 inside an annexed star system:
Uhn kan'aganna! Tehca zuhn ruga'noktan!
Uhn Kan'aganna! Tehca zuhn! Neemasta kan'aganna uckwazta!
Kuhn'ukchtacht zuhn vockwadai!
Apocrypha
Edit
External links
Edit