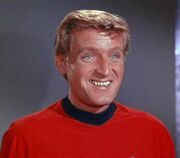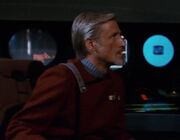 Actor John Winston (born 24 October 1927; age 88) portrayed Mr. Kyle through all three seasons of the original Star Trek. He would reprise the role in Star Trek II: The Wrath of Khan. He also portrayed Kyle's mirror universe counterpart, in addition to his regular role, in "Mirror, Mirror".
Winston appeared in the Time Tunnel pilot "Rendezvous with Yesterday" along with series regulars James Darren, Whit Bissell, Lee Meriwether and guest voice actor Bart La Rue. He also appeared in an episode of the television show Max Headroom along with Matt Frewer, Concetta Tomei, George Coe and W. Morgan Sheppard.
Winston, who lives in North Hollywood [1], portrayed Captain Jeffries in the fan-made internet series Star Trek: New Voyages pilot episode "Come What May" (2004), which features Trek actors James Cawley, Jeffery Quinn, Larry Nemecek, and TOS co-star Eddie Paskey.
Star Trek appearances
External links