Ad blocker interference detected!
Wikia is a free-to-use site that makes money from advertising. We have a modified experience for viewers using ad blockers

Wikia is not accessible if you've made further modifications. Remove the custom ad blocker rule(s) and the page will load as expected.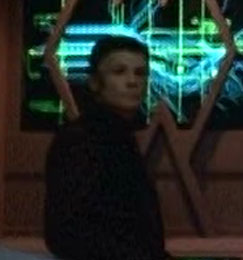 John Thaddeus Battistessa (born 24 October 1960; age 56) is an actor and voice artist who played a Krenim officer in the Star Trek: Voyager episodes "Year of Hell" and "Year of Hell, Part II". He received no on-screen credit for his appearance.
Born in Teaneck, New Jersey, he started his stage acting career in the '80s. Thaddeus is divorced, has three children, and is engaged to girlfriend Sharon.
Among his acting resume are films such as Sea of Love (1989, with Deborah Taylor), Octopus 2: River of Fear (2001, with Michael Reilly Burke), and McBride: It's Murder, Madam (2005, with John Larroquette, Marta Dubois, Joel Polis, and Marcy Goldman). He also served as a stand-in for the film Phoenix (1998, with Glenn Morshower, George Murdock, and Scott Leva).
His resume includes also guest appearances in television series such as The Guiding Light, One Life to Live, Days of our Lives, All my Children, Ally McBeal (1998, with Lawrence Pressman), ER (1998), The Young and the Restless (1998-1999), Charmed (2002, with Shannon O'Hurley), CSI: Miami (2004, with Michael Buchman Silver), Without a Trace (2004, with Enrique Murciano and Bob Minor), and recurring roles in 24 (2005, with Jude Ciccolella, Gregory Itzin, and Tim Kelleher) and Boston Legal (2005-2006, with William Shatner and Rene Auberjonois).
Thaddeus is also a voice artist and has shown his skills on Ally McBeal, Boston Public, and Boston Legal.
External link
Edit