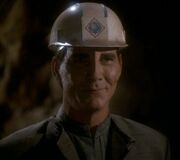 John Paragon (born 9 December 1954; age 62) played Thadial Bokar in the Star Trek: Deep Space Nine episode "Prodigal Daughter".
Paragon played Jambi the Genie and voiced Pterri the Pterodactyl on Pee-wee's Playhouse and also starred in various films and television series starring Elvira. He also appeared in the films UHF, Echo Park, Honey I Blew Up the Kid, Going Berserk and The Rich Man's Wife. Paragon also appeared in the Seinfeld episodes "The Soup Nazi", "The Sponge" and "The Puerto Rican Day".
External links
Edit
Ad blocker interference detected!
Wikia is a free-to-use site that makes money from advertising. We have a modified experience for viewers using ad blockers

Wikia is not accessible if you've made further modifications. Remove the custom ad blocker rule(s) and the page will load as expected.