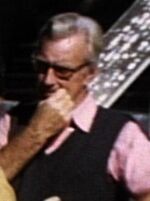 John Newland (23 November 1917 – 10 January 2000; age 82) began an acting career in 1949. Over the course of the next decade, he amassed over a hundred television guest appearances, ten small movie roles, and a number of directorial credits, before moving behind the camera in the early sixties. He spent the next twenty years there, rounding out his career with several late eighties producer credits. In front of the camera, he is perhaps best known as the host of the late 1950s supernatural anthology television series Alcoa Presents: One Step Beyond and its late 1970s follow-up, The Next Step Beyond.
External links
Edit
Ad blocker interference detected!
Wikia is a free-to-use site that makes money from advertising. We have a modified experience for viewers using ad blockers

Wikia is not accessible if you've made further modifications. Remove the custom ad blocker rule(s) and the page will load as expected.