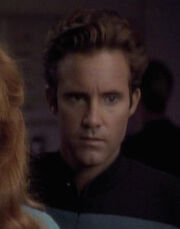 John Nelson is an actor who appeared in the Star Trek: The Next Generation sixth season episode "Schisms" in 1992 as a medical technician.
Nelson also had supporting roles in Peter Jackson's horror comedy Bad Taste (1987), in two episodes of In Living Color (1992, with Jean-Paul Vignon), and in the action film Fit to Kill (1993, with Richard Cansino, Brett Baxter Clark, and Sandra Wild).
External link
Edit
Ad blocker interference detected!
Wikia is a free-to-use site that makes money from advertising. We have a modified experience for viewers using ad blockers

Wikia is not accessible if you've made further modifications. Remove the custom ad blocker rule(s) and the page will load as expected.