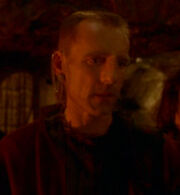 John Marzilli is the actor who played a Bajoran scavenger in the Star Trek: Deep Space Nine episode "Wrongs Darker Than Death or Night".
From 1994 through 1998, Marzilli played the role of Vince Carter in the family science fiction television series The Secret World of Alex Mack, for which he is probably best recognized. He had previous guest-starred in an episode of Cheers (starring Kelsey Grammer) and several episodes of Tales from the Darkside, including one with Carolyn Seymour and Lawrence Tierney. More recent TV appearances include Seven Days (with Jeff Kober and Norman Lloyd) and The Practice (starring Bill Smitrovich).
His few film credits include 1988's Fear (starring Cliff DeYoung), 1995's Project: Metalbeast (with Brian Brophy, Brioni Farrell, Chuck Picerni, Jr., and Musetta Vander), and 1998's The Last Call (with Seymour Cassel).
External links
Edit
Ad blocker interference detected!
Wikia is a free-to-use site that makes money from advertising. We have a modified experience for viewers using ad blockers

Wikia is not accessible if you've made further modifications. Remove the custom ad blocker rule(s) and the page will load as expected.