Ad blocker interference detected!
Wikia is a free-to-use site that makes money from advertising. We have a modified experience for viewers using ad blockers

Wikia is not accessible if you've made further modifications. Remove the custom ad blocker rule(s) and the page will load as expected.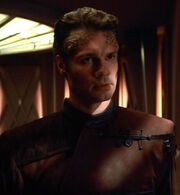 John Loprieno (born 7 October 1960; age 56) played Obrist in the Star Trek: Voyager episodes "Year of Hell" and "Year of Hell, Part II".
Loprieno is known mostly as a soap actor, beginning with his role as Dan Walton on Search For Tomorrow from 1985 to 1986 (with Robert Curtis-Brown and Barbara Luna), but Loprieno's signature daytime character is Cordero "Cord" Roberts on One Life To Live playing the character non-stop from 1986 to 1997 then sporadically in 1998, 2000, 2004, 2007, 2008, and 2011. On this series Luna played his mother Maria Roberts. Loprieno also serves as a writer on the series and has occasionally directed. During Loprieno's tenure he has worked with Anthony Crivello, Henry Darrow, Dan Gauthier as his brother Kevin Buchanan, David Gautreaux, Susan Gibney, Renee Goldsberry, Mark La Mura, Stephen Macht, Stephen Markle, Colm Meaney, Peter Parros, Alan Scarfe, David Spielberg, Linda Thorson, Connor Trinneer, Kellie Waymire, Doug Wert, and Bridget Ann White. Outside of his soap work is the fictional Death of a President (2006, with Michael Reilly Burke), which chronicles the assassination of President George Bush, Jr. His guest work on television includes the period drama Christy (starring LeVar Burton) in "Second Sight" (1995) and the medical drama ER in "Good Luck Ruth Johnson" (1998, with Sam Anderson, Jenette Goldstein, Lily Mariye, and Cress Williams).
External links
Edit