Template:Disambiguate John M. Eaves (born 9 April 1962; age 54) was a production illustrator on Star Trek: Deep Space Nine and Star Trek: Enterprise. He also worked on six Star Trek movies: Star Trek V: The Final Frontier, Star Trek Generations, Star Trek: First Contact, Star Trek: Insurrection,Star Trek Nemesis and Star Trek.
Eaves very first production involvement with Star Trek, was working at Gregory Jein, Inc. as model maker for The Final Frontier. [1] For Star Trek Generations he was firstly, tasked with modifying the USS Excelsior model, turning it into the USS Enterprise-B. He became a permanent staff member the following year as production illustrator for Deep Space Nine, as a vacancy opened up when illustrator Jim Martin left the franchise at the start of the fourth season. For the remainder of that series, Eves designed numerous set pieces, props and starships, the first one being the Groumall (Star Trek: The Magazine Volume 1, Issue 2, p. 22), as well as the later Breen warship. John Eaves' designs for the movies included the USS Enterprise-E, several Son'a ships, the Scimitar, the Valdore-type Romulan warbird, the hovercruiser, medicals and military shuttles, and the new Enterprise's escape pods.
Much of his design work on Star Trek: Generations and Star Trek: First Contact was published in Star Trek: The Next Generation Sketchbook: The Movies, which he co-authored.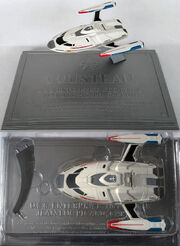 Working with the Official Star Trek Fan Club and their magazine, he designed and mastered a replica of the Captain's yacht Cousteau. Eaves also designed "sculptural" three-dimensional starship plates for The Hamilton Collection.
Later he worked as regular on Star Trek: Enterprise, designing starships, space stations and more. The design work he has done on Star Trek (2009), has earned him an ADG Excellence in Production Design Awards nomination in the following year. As of 2012, Eaves was working in the same capacity on the twelfth installment of the movie series.
Eaves' involvement in Star Trek continues in his role as a design consultant for Perpetual Entertainment in developing the online game Star Trek Online. [2] [3] He also recently worked on Star Trek The Exhibition. [4]
"John Eaves' Sketchbook" is a special feature series on the Star Trek: Deep Space Nine DVDs.
Star Trek starship designs
Starships designed by Eaves:
(This list is currently incomplete.)
Other work
Prior to his work on Trek, Eaves started out a model maker, Top Gun (1986) being his very first professional assignment. Having worked in that capacity for a succession of companies like Apogee, Inc., Grant McCune Design, and Boss Film Corporation, other pre-Star Trek films he worked on as model maker were, among others Innerspace (1987, featuring Robert Picardo, Dick Miller, Wendy Schaal, William Schallert, Henry Gibson, Kenneth Tobey, Andrea Martin, music by Jerry Goldsmith and cinematography by Andrew Laszlo), Alien³ (1992), Batman Returns (1992, with Vincent Schiavelli, Anna Katarina, Biff Yeager and Felix Silla), Strange Days (1995, with Michael Jace and cinematography by Matthew F. Leonetti), and, most recently, X-Men: The Last Stand (2006, starring Patrick Stewart, Famke Janssen, and Kelsey Grammer).
In the latter half of 1989, Eaves worked for Greg Jein–with whom he struck up an enduring friendship–, and, apart from The Final Frontier, has worked for his company on The Hunt for Red October (1990, with Ron Gress, Alan McFarland, and Bruce MacRae). Still a relatively newcomer at that time, Eaves later expressed gratitude for Jein, who took Eves under his wings, during the production of The Final Frontier, "As an introduction to Star trek I had the best time working for Greg and in all honesty I wasn't ready for all the responsibilities he gave me and in many ways I feel I didn't have the knowledge to perform as good as I wanted to!!!!! but he continued to nurture me on and I am so grateful for that opportunity." [5]
IN 1987 he added graphics to his skills set, and started also working as a graphic artist, first as concept/storyboard artist on the movie Nightflyers (1987), as well as on the later television series seaQuest DSV (1993-1995), subsequently as concept artist/illustrator for the Star Trek franchise and films like Virtuosity (1995, with Louise Fletcher, Danny Goldring and the voice of Frank Welker), Sky High (2005, with music by Michael Giacchino), The Santa Clause 3: The Escape Clause (2006, with Michael Dorn), and Evan Almighty (2007), and an illustrator on Ghosts of Mars (2001, with Joanna Cassidy), The Majestic (2001, with David Ogden Stiers and Earl Boen), Flight of the Phoenix (2004), and Pirates of the Caribbean: On Stranger Tides (2011, earning him a second ADG Award nomination the following year).
His television credits as concept artist include the series Bones and Raines, the latter of which starred Linda Park.
Eaves currently lives which his wife, and two of his three daughters in a small town in Wyoming, having recently moved there from his homestate Arizona.
ADG Excellence in Production Design Awards nomination
2010 ADG Excellence in Production Design Awards nomination as "illustrator" for Star Trek: The Future Begins (2009) in the category "Fantasy Film", shared with Dennis Bradford, Curt Beech, Luke Freeborn, Beat Frutiger, and Gary Kosko, art directors; Aaron Haye, assistant art director; Keith P. Cunningham, supervising art director; Clint Schultz, graphic designer; Ryan Church, James Clyne, and Paul Ozzimo, illustrators; Scott Chambliss, production designer; Bruce G. Smith, scenic artist; Karen Manthey, set decorator; C. Scott Baker, Dawn Brown, Kevin Cross, Andrea Dopaso, Jeff Frost , Scott Herbertson, Joseph Hiura, Billy Hunter, Harry E. Otto, Anne Porter, Andrew Reeder,and Jane Wuu, set designers
Star Trek interviews
Bibliography
Further reading
External links