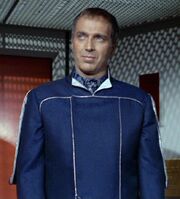 John Crawford (13 September 1920 – 21 September 2010; age 90) was a film and television actor. He played Galactic High Commissioner Ferris in the first season episode of Star Trek: The Original Series entitled "The Galileo Seven".
Crawford has made well over 200 film and television appearances. He is probably best known for portraying Sheriff Ep Bridges on the family drama The Waltons (1972-81) and for playing Major (and later Colonel) Harry Thompson in the 1979 mini-series From Here to Eternity and its subsequent series, which lasted for only one season in 1980. Both co-starred regular Star Trek: Deep Space Nine actress Salome Jens, while the mini-series also featured another DS9 actor, Andrew Robinson.
Besides his role on Star Trek, he has also guest-starred on such classic TV shows as The Lone Ranger, Gunsmoke, The Twilight Zone, The Untouchables, Batman, Mission: Impossible, Lost in Space, Bonanza, The Bob Newhart Show, and Dallas. He also made several appearances on The Time Tunnel, a science fiction series which starred James Darren, Lee Meriwether, and Whit Bissell, and had a recurring role on Dynasty, starring Joan Collins and Lee Bergere. Crawford's latest TV appearance was in a 1986 episode of Hardcastle and McCormick, starring Brian Keith and Daniel Hugh Kelly.
His many feature film credits include Mystery Street (1950, starring Ricardo Montalban and featuring Frank Overton), Right Cross (1950, also starring Ricardo Montalban and featuring Kenneth Tobey), Zombies of the Stratosphere (1952, with Leonard Nimoy), Scaramouche (1952, with Richard Hale), The Greatest Show on Earth (1952, with Lawrence Tierney), The Man in the Gray Flannel Suit (1956, with DeForest Kelley), The Longest Day (1962, with Richard Beymer and Jeffrey Hunter), Jason and the Argonauts (1963, with Nancy Kovack), The Americanization of Emily (1964, with William Windom), The Greatest Story Ever Told (1965, with Nehemiah Persoff, John Abbott, Michael Ansara, Mark Lenard, and Celia Lovsky), Duel at Diablo (1966, with John Hoyt), The Poseidon Adventure (1972, with Elizabeth Rogers), Trouble Man (1972, starring Robert Hooks and Paul Winfield), The Towering Inferno (1974, with Paul Comi and George D. Wallace), Night Moves (1975, with Harris Yulin and Kenneth Mars), and The Apple Dumpling Gang Rides Again (1979, with Kenneth Mars, Robert Pine, Rex Holman, Nick Ramus, John Arndt, and Vince Deadrick).
Crawford died of a stroke in Newbury Park, California, on 21 September 2010. He was 90 years old.[1]
External link