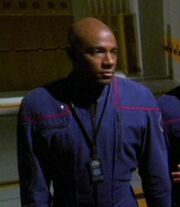 John B. Moody is the actor who appeared as a security officer in the Star Trek: Enterprise second season episode "First Flight".
Following his appearances in the comedies The Pee-wee Herman Show (1981, with John Paragon) and Pee-wee's Big Adventure (1985, with Diane Salinger, Mark Holton, and John Paragon), Moody had a supporting role as Len in The Golden Girls episode "Yokel Hero" in 1988. The episode also features James Lashly and Richard Mulligan.
Prior to his work on Enterprise he had a recurring role in the comedy show On the Television (1990) and featured parts in the comedy Pizza Man (1991, with Clyde Kusatsu), the comedy Twin Sitters (1994, written, directed and with John Paragon), the drama East of Hope Street (1998, written by and starring Tim Russ), and in two episodes of David E. Kelley's drama series The Practice (2000-2001, with Jerome Butler, Bruce Davison, Tim Glenn, and David Bowe).
More recent work includes the comedy Shrink Rap (2003, with Celeste Yarnall), the comedy Robbin' in da Hood (2009), and the video game Command & Conquer 4: Tiberian Twilight (2010, with Iona Morris, Tim de Zarn, Ian Fisher, Michelle Bonilla, and Carlos Ferro).
External links
Edit
Ad blocker interference detected!
Wikia is a free-to-use site that makes money from advertising. We have a modified experience for viewers using ad blockers

Wikia is not accessible if you've made further modifications. Remove the custom ad blocker rule(s) and the page will load as expected.