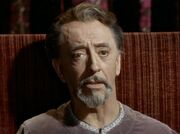 John Abbott (5 June 1905 – 24 May 1996; age 90), born John Kefford, was an English actor who worked steadily from the thirties to the eighties, amassing dozens of television guest appearances, and movie roles – almost a hundred and fifty total. He was particularly active in sixties television, with guest appearances in many of the shows of that era. He played Ayelborne in the Star Trek: The Original Series episode, "Errand of Mercy".
Abbott filmed his scenes on Friday 27 January 1967 at the "Arab Village" section of the 40 Acres backlot, Monday 30 January 1967, Tuesday 31 January 1967 at Desilu Stage 9, and Thursday 2 February 1967 at Stage 10.
Nine months after filming "Errand of Mercy", Abbott coincidentally uttered (at 13:50) that TOS episode title to Vince Howard in the Bewitched episode "Samantha's Da Vinci Dilemma".
He lent a quiet dignity to the roles he played, even in relatively weak plots like Lost in Space. According to William Blackburn, Abbott was a very professional, Shakespeare-trained classic actor. (Star Trek: The Original Series HD DVD Special Features)
Appearances
Edit
External link
Edit
Ad blocker interference detected!
Wikia is a free-to-use site that makes money from advertising. We have a modified experience for viewers using ad blockers

Wikia is not accessible if you've made further modifications. Remove the custom ad blocker rule(s) and the page will load as expected.