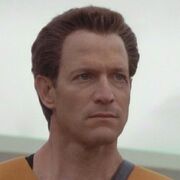 Joel Polis (born 3 October 1951; age 65) from Philadelphia, Pennsylvania, is an actor who portrayed Ny Terla in the 1995 Star Trek: Voyager episode "Time and Again".
Joel began his long career of television acting in 1978, appearing in Born Beautiful. He has appeared on numerous television series, including St. Elsewhere, Cheers (along with Kelsey Grammer and Kirstie Alley), Law & Order, 7th Heaven (starring Stephen Collins and Catherine Hicks), and Boston Legal (starring William Shatner and Rene Auberjonois).
Movie credits include The Thing (1982) and True Believer.
External links
Edit
Ad blocker interference detected!
Wikia is a free-to-use site that makes money from advertising. We have a modified experience for viewers using ad blockers

Wikia is not accessible if you've made further modifications. Remove the custom ad blocker rule(s) and the page will load as expected.