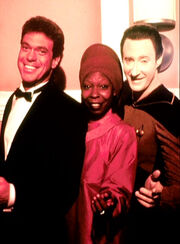 Joseph Charles John "Joe" Piscopo (born 17 June 1951; age 66) is a stand-up comic and actor who appeared as the Comic in the Star Trek: The Next Generation second season episode "The Outrageous Okona".
Piscopo was part of the Saturday Night Live cast from 1980-84 (working with the late Charles Rocket during his first year) - Malcolm McDowell and Sally Kellerman would host the show in his first season, Brandon Tartikoff and Teri Garr in his last. One of his most memorable impressions on that show was Frank Sinatra.
Notable filmography
Edit
External links
Edit
Ad blocker interference detected!
Wikia is a free-to-use site that makes money from advertising. We have a modified experience for viewers using ad blockers

Wikia is not accessible if you've made further modifications. Remove the custom ad blocker rule(s) and the page will load as expected.