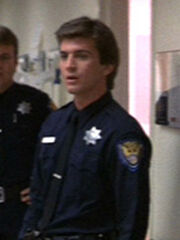 Joseph John "Joe" Lando (born 9 December 1961; age 55) portrayed a US Navy Shore Patrolman in Star Trek IV: The Voyage Home. He is best known for his role as Byron Sully on Dr. Quinn, Medicine Woman where he worked with co-stars Barbara Babcock, Erika Flores, Frank Collison, and Chad Allen. He has appeared on several episodes of the ABC Family Network show, Wildfire, with Nana Visitor and co-starred in the SciFi channel movie A.I. Assault with Michael Dorn and Robert Picardo.
External links
Edit
Ad blocker interference detected!
Wikia is a free-to-use site that makes money from advertising. We have a modified experience for viewers using ad blockers

Wikia is not accessible if you've made further modifications. Remove the custom ad blocker rule(s) and the page will load as expected.