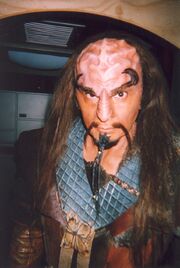 Joseph "Joe" Billingiere is the actor who appeared as a background performer in several episodes of Star Trek: Enterprise, mostly under heavy prosthetics. As an extra, he received no credit for his appearances.
Billingiere is a trained martial artists and stuntman, skilled in stage combat, aikido, and Japanese sword techniques. Beside stage plays, such as Sherlock Holmes, The Final Adventure, The Best Man" and Big River, he served as stand-in and photo double for Steven Seagal in the action films Exit Wounds (2001, with Bruce McGill), Ticker (2001, with Vanessa Branch and Jerry Rector), and Half Past Dead (2002, with Tony Plana, Linda Thorson, and fellow Enterprise co-star Michael McGrady).
He also served as photo double for Steve Valentine in the television series Crossing Jordan (2001-2007, with regular Miguel Ferrer), played recurring roles in Jimmy Kimmel Live!, and guest and supporting roles in Air America, Miracles, and Captain My Captain (as Gene Simmons), as well as in the television action film Crash and Burn (2008, with Jamie McShane and stunts by Gary J. Wayton and Terry James).
More recently he appeared as Two Wolves in the Reno 911! episode Wiegel's Dad Returns (2008, with Boni Yanagisawa). Joe has most recently appeared as Christian, the Rebel Leader in Shoko Nakagawa's video, Tesuku Sekei, He appeared in Everone Hates Chris (Chris Rock) as Tonto (with the Lone Ranger) and appeared on the Chocolate News (David Allen Greer) and on Tim and Eric's Awesome Adventure. Billingiere can be seen in Jonah Hex, and in the up-coming feature, John Carter of Mars.
Star Trek appearancesEdit
(This list is incomplete.)
External links
Edit
Ad blocker interference detected!
Wikia is a free-to-use site that makes money from advertising. We have a modified experience for viewers using ad blockers

Wikia is not accessible if you've made further modifications. Remove the custom ad blocker rule(s) and the page will load as expected.