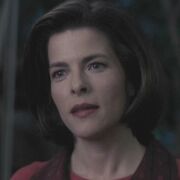 Joanna Heimbold is an actress who played Laura in the Star Trek: Voyager episodes "Unimatrix Zero" and "Unimatrix Zero, Part II".
Heimbold was married to Voyager guest star Titus Welliver. They have two children.
Among her acting resume are the films Dear God (1996, with Jack Sheldon, Stephanie Niznik, Valerie Wildman, Elinor Donahue, and stunts by Lisa Hoyle), The Sex Monster (1999, with Kara Zediker and Robin Curtis), and The Nanny Diaries (2007, with Donna Murphy), and guest appearances in the television series Law & Order (1994), CBS Schoolbreak Special (1995), and Tracey Takes On... (1997, with Seymour Cassel and Andy Milder).
External links
Edit
Ad blocker interference detected!
Wikia is a free-to-use site that makes money from advertising. We have a modified experience for viewers using ad blockers

Wikia is not accessible if you've made further modifications. Remove the custom ad blocker rule(s) and the page will load as expected.