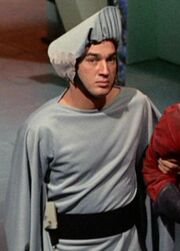 Jimmy Fields is the actor who portrayed Cloud Guard #2 in the Star Trek: The Original Series third season episode "The Cloud Minders".
Fields previously appeared in the television series Telephone Time (1957), The Adventures of Jim Bowie (1957), Mister Ed (1958), Lassie (1958), The Donna Reed Show (1959), and The Rifleman (1960, with Paul Fix and Arnold Moss), and had a recurring role as Richy Gordon in The Ann Sothern Story (1960, along Arch Whiting in one episode). Fields also appeared in the 1969 musical drama Sweet Charity along Ricardo Montalban and Ben Vereen.
External link
Edit
Ad blocker interference detected!
Wikia is a free-to-use site that makes money from advertising. We have a modified experience for viewers using ad blockers

Wikia is not accessible if you've made further modifications. Remove the custom ad blocker rule(s) and the page will load as expected.