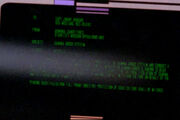 Jimmy Arakaki was a Human Starfleet officer in the mid-24th century.
In 2364, he held the rank of captain, and was the commanding officer of the USS Mustang. In that year, on stardate 41305.3, he received a mission order from Admiral Sandy Fries of Starfleet Mission Operations Unit. (TNG: "Conspiracy")
This character was never mentioned in dialog; his name came from a mission order.