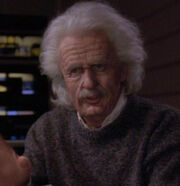 Jim Norton (born 4 January 1938; age 79) is an Irish actor who played the role of Albert Einstein in the Star Trek: The Next Generation episodes "The Nth Degree" and "Descent". For "The Nth Degree" he filmed his scenes on Monday 4 February 1991 on Paramount Stage 9 and for "Descent" in April 1993.
He is probably best known for his recurring role as the evil Bishop Leonard "Len" Brennan in three episodes of the British/Irish comedy series Father Ted (1995-1998). He's also had a minor appearance in Harry Potter and the Chamber of Secrets, as one of Mr. Dursely's guests.
Norton also appeared in the 1992 science-fiction comedy Memoirs of an Invisible Man, (which also starred Michael McKean, Barry Kivel, Rosalind Chao, Shay Duffin, Sam Anderson, Ellen Albertini Dow, Chip Heller and Aaron Lustig), and the 1998 crime drama American History X, along with fellow Trek performers Avery Brooks, Jennifer Lien, Kiante Elam, Paul E. Short, and Denney Pierce.
Norton guest-starred on the second-season episode "The Club" of Frasier, starring Kelsey Grammer, and which also guest-starred W. Morgan Sheppard.
External links
Edit
Ad blocker interference detected!
Wikia is a free-to-use site that makes money from advertising. We have a modified experience for viewers using ad blockers

Wikia is not accessible if you've made further modifications. Remove the custom ad blocker rule(s) and the page will load as expected.