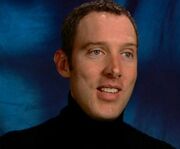 James "Jim" Martin (credited both as Jim, and James Martin) is an production illustrator who has worked as such on Star Trek: Deep Space Nine, Star Trek: Voyager's pilot episode "Caretaker", Star Trek: Enterprise, and as storyboard illustrator on Star Trek Generations. His most widely-known creations are the Template:ShipClass runabout, which he co-designed with Rick Sternbach, and later the USS Defiant, which he designed under the direction of Herman Zimmerman and Gary Hutzel. He is featured in the interviews in the special features of the DS9 Season 2 DVD, the DS9 Season 3 DVD and the DS9 Season 4 DVD. Martin also designed the Bajoran phaser rifle. [1]
A graduate from the California State University, Northridge, Deep Space Nine was his first professional Hollywood employment. [2] Martin left the franchise in 1995 at the start of DS9 Season 4, and his position was filled by John Eaves for Deep Space Nine, while Rick Sternbach continued to fulfill the position for Voyager on his own. Martin shortly returned in 2001 as freelancer for the pre-production of Enterprise's pilot episode "Broken Bow" as prop designer, but has not received official credit for his input.
Together with Brandon MacDougall, James MacKinnon, and Michael Westmore, Martin contributed as "spacecraft designer" to the video game, Star Trek: Starfleet Academy (1997).
Further Reading
External links