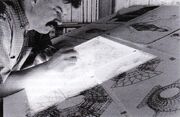 Jim Key, having a credit as a comic book artist, is first and foremost a model maker. As such, he was in 1998, at the time of the production of Star Trek: Insurrection, employed both at the model shop of Blue Sky/VIFX as model maker and designer, and at HMS Creative Productions, Inc. (HMS) as propmaker. Though having worked on the production, his contributions went uncredited. For Insurrection he has built several props and study models as well as having designed the interior of the Son'a collector. (Cinefex, issue 77, p. 91; Sci-Fi & Fantasy Models International, issue 35, p. 18)
He has chronicled the visual effects work that company has done on the production, and submitted it as a two-part article to the UK magazine Sci-Fi & Fantasy Models, where it was published. For that publication he has later on also submitted an article about Star Trek props, produced for the franchise by his other employer, props manufacturing company HMS. His only other Star Trek work was penciling the fourth Star Trek: The Next Generation Annual from DC, "A House Divided".
As model maker, he has contributed to productions like Alien: Resurrection (1997), From the Earth to the Moon (1998, TV mini-series), Bicentennial Man (1999), and Shanghai Noon (2000).
In 2000, Key founded his own company Custom Replicas & Accurate Models that manufactures fully functional custom made replicas of studio models, the majority of them from science fiction franchises, including Star Trek. He counts among his customers museums, like the Seattle-based Science Fiction Museum.
Bibliography
Edit
"Star Trek: Insurrection – The "Next Generation" of Miniature Effects", Part One, Sci-Fi & Fantasy Models, issue 34, January 1999, pp. 24-31 – Author
"Star Trek: Insurrection – The "Next Generation" of Miniature Effects", Part Two, Sci-Fi & Fantasy Models International, issue 35, March 1999, pp. 18-23 – Author
"The Intergalactic Arsenal of Star Trek: Making classic TV and Film props", Sci-Fi & Fantasy Models International, issue 37, June 1999, pp. 26-30 – Author
External links
Edit