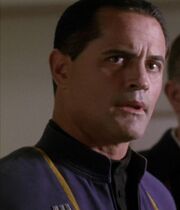 Jim Fitzpatrick (born 28 August 1959; age 56) played Commander Williams in various episodes of Star Trek: Enterprise.
Jim Fitzpatrick was born Offutt Air Force Base, better known as SAC (Strategic Air Command) headquarters, in Nebraska. He joined Steppenwolf Theatre Company (founded by Gary Sinise and John Malkovich).
From 1981 to 1985 he was a professional footballer, playing in Canada and the USA.
He wrote produced and directed a poignant romantic dramedy entitled An American Reunion, one of 31 screenplays he has written and produced.
Appearances
External links