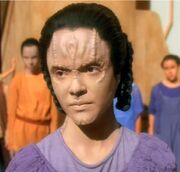 Jillian Ziesmer played Asha in the Star Trek: Deep Space Nine episode "Cardassians". It is her only screen acting credit to date.
Ziesmer attended Concord High School in Santa Monica, California, graduating in 1997. On May 30th, 1997, prior to graduation, she was named as a recipient of the President's Education Award, given to students who have earned high grades and are among the top standardized test scorers. [1] She had been accepted by nine different colleges, including Boston University and five University of California campuses. [2] It is unknown which college she selected, if any.
External link
Edit
Ad blocker interference detected!
Wikia is a free-to-use site that makes money from advertising. We have a modified experience for viewers using ad blockers

Wikia is not accessible if you've made further modifications. Remove the custom ad blocker rule(s) and the page will load as expected.