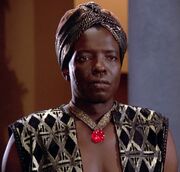 Jessie Lawrence Ferguson (born 8 June 1941; age 76) is the actor who appeared as Lutan in TNG: "Code of Honor". Ferguson has done TV and film work in a career that stretches from the late '70s to the early '90s. Among his roles are guest appearances on the popular television shows The A-Team (which starred Dwight Schultz) and Hill Street Blues (which starred James B. Sikking).
He also appeared in the movies Boyz N the Hood and The Adventures of Buckaroo Banzai Across the 8th Dimension (starring Peter Weller, Christopher Lloyd, Robert Ito, Clancy Brown, Vincent Schiavelli, Raye Birk, Jonathan Banks, and Kevin Sullivan).
External link
Edit
Ad blocker interference detected!
Wikia is a free-to-use site that makes money from advertising. We have a modified experience for viewers using ad blockers

Wikia is not accessible if you've made further modifications. Remove the custom ad blocker rule(s) and the page will load as expected.