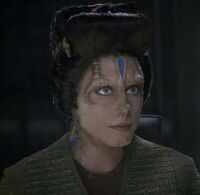 Jessica Hendra was born in 1965. She played Dejar in the Star Trek: Deep Space Nine episode "Destiny". Hendra is married to actor Kurt Fuller.
Hendra commented on her appearance as Dejar: "But after I had [my daughter], I focused more on mothering than acting, and my most unforgettable role — as Dejar in Star Trek: Deep Space Nine is remembered less for my acting and more because of the audience: Trekkies who log every character. That's not to diminish my convincing portrayal of a 'Cardassian female... [who] attempted to sabotage a joint Cardassian-Bajoran scientific effort to place a subspace relay in the Gamma Quadrant'. At least, that's how StarTrek.com describes it". (How to Cook Your Daughter)
Hendra starred in the 1995 movie Dillinger and Capone (with F. Murray Abraham, Stephen Davies, Catherine Hicks, Jeffrey Combs, Bert Remsen, Clint Howard and Joe Maruzzo) and guest starred in Mad About You (with Suzie Plakson), Malcolm in the Middle (with David Burke) and Working.
External link
Edit
Ad blocker interference detected!
Wikia is a free-to-use site that makes money from advertising. We have a modified experience for viewers using ad blockers

Wikia is not accessible if you've made further modifications. Remove the custom ad blocker rule(s) and the page will load as expected.