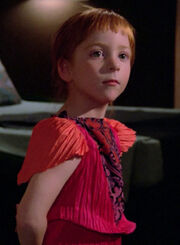 Jessica A. Bova (born 23 July 1983; age 34) is the actress who, along with her twin sister Vanessa Bova, played Alexandra in the Star Trek: The Next Generation first season episode "When The Bough Breaks".
Bova was born in Anaheim, California and trained acting at BB'S Kids Acting Workshop on which she also worked on several stage plays. She also studied acting with Gary Austin and Bobbie Chance and was featured in Access Hollywood and the UCS graduation film The Paper Boy. Together with her twin sister she can also be seen in a Johnson & Johnson baby shampoo commercial.
As of 2009, Bova has been working as an actress and nurse caregiver and is living in Perris, California.
External links
Edit
Ad blocker interference detected!
Wikia is a free-to-use site that makes money from advertising. We have a modified experience for viewers using ad blockers

Wikia is not accessible if you've made further modifications. Remove the custom ad blocker rule(s) and the page will load as expected.