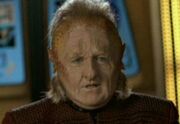 Jerry Sroka (born 30 January 1946; age 71) played the Talaxian Laxeth on the Star Trek: Voyager episode "Investigations".
Sroka is married to Mariette Hartley, who portrayed Zarabeth in the original Star Trek series episode "All Our Yesterdays". And they have two children, Liz Sroka and Warren Sroka.
External link
Edit
Ad blocker interference detected!
Wikia is a free-to-use site that makes money from advertising. We have a modified experience for viewers using ad blockers

Wikia is not accessible if you've made further modifications. Remove the custom ad blocker rule(s) and the page will load as expected.