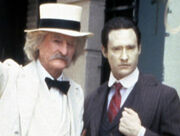 Jerry Hardin (born 20 November 1929; age 87) played the role of Radue in the Star Trek: The Next Generation first season episode "When The Bough Breaks" in 1988; however, he is better known for playing Samuel Clemens, aka Mark Twain, in the fifth and sixth season episodes "Time's Arrow" and "Time's Arrow, Part II" in 1992. Hardin also appeared in the Star Trek: Voyager first season episode "Emanations" as Neria.
Elsewhere in the sci-fi genre, Hardin is well-known for his portrayal of the informant "Deep Throat" beginning in the first season of The X-Files, as well as his role as the unnamed attorney at the beginning of the fantasy film Big Trouble in Little China which starred Kim Cattrall. He had a bit part in the 1975 movie Mitchell, in which Robert Phillips had a supporting role.
Star Trek appearances Edit
External links
Edit
Ad blocker interference detected!
Wikia is a free-to-use site that makes money from advertising. We have a modified experience for viewers using ad blockers

Wikia is not accessible if you've made further modifications. Remove the custom ad blocker rule(s) and the page will load as expected.