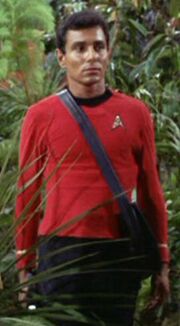 Jerry Daniels is an actor who played Lieutenant Marple in the Star Trek: The Original Series episode "The Apple". This role was his earliest known acting credit in television. He filmed his scenes between Monday 17 July 1967 and Thursday 20 July 1967 at Desilu Stage 10.
Daniels has also been seen on such television series as The Outcasts (in an episode with William Wintersole), The High Chaparral (starring Henry Darrow), Cade's County (directed by Joseph Pevney), Quincy, M.E. (starring Robert Ito and Garry Walberg, in an episode with Henry Darrow), and The Fantastic Journey (appearing with Jeffrey Byron and Ike Eisenmann). In addition, he co-starred with Celeste Yarnall in the 1971 horror film The Velvet Vampire. Daniels later had a supporting role in the 1978 independent action film The Norseman, along with Seamon Glass.
External link
Edit
Ad blocker interference detected!
Wikia is a free-to-use site that makes money from advertising. We have a modified experience for viewers using ad blockers

Wikia is not accessible if you've made further modifications. Remove the custom ad blocker rule(s) and the page will load as expected.