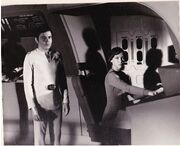 Jeri McBride is the actress who played an Enterprise crewmember in Star Trek: The Motion Picture.
On 29 November 1980 she married actor Robert Davi, with whom she has a son, Sean Christian Davi (born 1981). Today the couple is divorced.
McBride also portrayed Granger's Wife in the 1994 thriller The November Men, with Star Trek actress Leslie Bevis and her ex-husband in a supporting role. She also had a small uncredited role in the acclaimed 1976 film Rocky, which also featured Michael Dorn.
External link