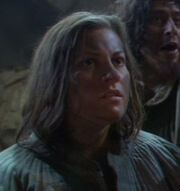 Jennifer Booker played a miner of the Orpheus Mining colony in the Star Trek: Enterprise episode "Demons". She received no credit for this appearance.
Booker is the wife of Scott Booker and played alongside her husband and "The Flaming Lips" member Michael Ivins for her cameo role in Enterprise after they were invited to visit the set by Connor Trinneer. Her husband is a good friend of Trinneer.
Ad blocker interference detected!
Wikia is a free-to-use site that makes money from advertising. We have a modified experience for viewers using ad blockers

Wikia is not accessible if you've made further modifications. Remove the custom ad blocker rule(s) and the page will load as expected.