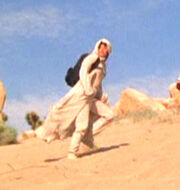 Jennifer Berlant is an actress who worked as photo double for Nicole de Boer in the Star Trek: Deep Space Nine episodes "Shadows and Symbols" and "Take Me Out to the Holosuite". Berlant and fellow photo doubles John Lendale Bennett, Todd Slayton, and Steve Wilson stood in for the actors Avery Brooks, Nicole de Boer, Cirroc Lofton, and Brock Peters in the wide shots filmed in Palmdale, California for the previous episode. (Star Trek: Deep Space Nine Companion)
Ad blocker interference detected!
Wikia is a free-to-use site that makes money from advertising. We have a modified experience for viewers using ad blockers

Wikia is not accessible if you've made further modifications. Remove the custom ad blocker rule(s) and the page will load as expected.