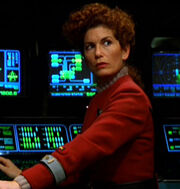 Jenette Goldstein (born 4 February 1960; age 56) played the science officer aboard the USS Enterprise-B in Star Trek Generations. She also did voice work for Star Trek: Invasion.
Goldstein has also appeared in several films directed by James Cameron, most notably playing Pvt. Vasquez in the science fiction film Aliens. The character would later serve as a partial inspiration for the character of Natasha Yar and, in fact, Goldstein auditioned for the role of Yar (the character at that time being named Macha Hernandez.)
She also appeared in Cameron's films Terminator 2 (which also featured Earl Boen, Castulo Guerra, Terrence Evans, Abdul Salaam El Razzac and a young Nikki Cox) and Titanic (along with David Warner, Michael Ensign, Tricia O'Neil, and Greg Ellis).
Goldstein was also featured in the Jonathan Frakes-directed Clockstoppers, along with Ken Jenkins, Scott Thomson, Gina Hecht, and Jeff Ricketts. She also made two appearances in the third season of 24, along with Penny Johnson, Glenn Morshower, Zachary Quinto, Greg Ellis, and Michael Cavanaugh
External links
Edit