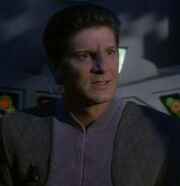 Jeff Yagher (born 18 January 1962; age 55) played Iden in the Star Trek: Voyager episode "Flesh and Blood".
He is the husband of actress Megan Gallagher, who played Mareel in DS9: "Invasive Procedures", Nurse Faith Garland in DS9: "Little Green Men" and Jaryn in VOY: "Body and Soul". He is also the brother-in-law of Catherine Hicks, who played Dr. Gillian Taylor in Star Trek IV: The Voyage Home. In addition, he illustrated Robert Picardo's book The Hologram's Handbook.
Jeff is best known for his role as Kyle Bates in the 1980s science fiction television series V. He is the brother of Kevin Yagher, who is a movie special effects expert.
From 1995 to 1996, Yagher starred in the short-lived series Live Shot. Other Star Trek stars who were also cast members include David Birney, Ron Canada, Karen Austin, Bruce McGill and Sam Anderson. Star Trek stars who guest-starred include Casey Biggs, Chase Masterson, Dion Anderson, John Schuck, Lee Arenberg, Hal Landon, Jr., Cully Fredricksen and Kenneth Tigar.
External links
Edit
Ad blocker interference detected!
Wikia is a free-to-use site that makes money from advertising. We have a modified experience for viewers using ad blockers

Wikia is not accessible if you've made further modifications. Remove the custom ad blocker rule(s) and the page will load as expected.