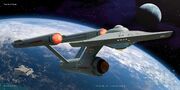 A life-long fan of Star Trek since the beginning, Jeff Summers is the January artist in the 2018 Star Trek: Ships of the Line calendar, and the May artist in the 2019 Star Trek: Ships of the Line calendar.
A veteran graphics specialist and illustrator for the United States Air Force, Summers has become a designer and builder of finely crafted science fiction scale models as well as a science fiction illustrator.
His process begins with designing and building a detailed physical model that he photographs and then incorporates into his illustrations. This lets him create a unique, realistic and highly detailed appearance in his imagery.
Summers' day job is owner and operator of Media One Visual Arts in Danville, Illinois.
External links
Edit