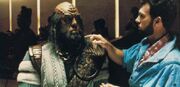 Jeff Dawn is a makeup artist who worked on Star Trek IV: The Voyage Home and Star Trek V: The Final Frontier. He was nominated for a Saturn Award, along with Wes Dawn and James Lee McCoy, for Best Makeup on Star Trek IV: The Voyage Home. He is the son of Robert Dawn, who was the head makeup artist on the second original series pilot, "Where No Man Has Gone Before", and the nephew of Wes Dawn, who collaborated with him on his Star Trek work. Also, he is the grandson of legendary classic era make-up artist Jack Dawn.
External link
Edit
Ad blocker interference detected!
Wikia is a free-to-use site that makes money from advertising. We have a modified experience for viewers using ad blockers

Wikia is not accessible if you've made further modifications. Remove the custom ad blocker rule(s) and the page will load as expected.