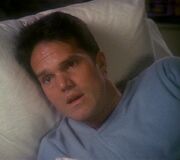 Jeb Brown played a Starfleet ensign in the Star Trek: Deep Space Nine episode "Nor the Battle to the Strong".
Brown's other guest-starring roles include appearances in Hunter, Gabriel's Fire (in the episode "Money Walks", with Jack Kehler and Madge Sinclair), Dave's World, and Law & Order: Criminal Intent.
His motion picture and television movie credits include The Eyes of the Panther, I'll Do Anything (with Wren T. Brown), Renaissance Man (with Ed Begley, Jr.), and Crazy for You.
External link