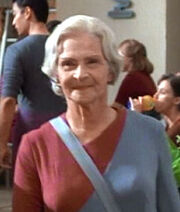 Jeanette Miller is an actress who played Tembit in the Star Trek: Voyager episode "Random Thoughts". She was credited as "Woman".
Among her acting resume are films such as Artists and Models (1955), The Vagabond King (1956), The Diamond Trap (1988, with William Utay), Cold Heaven (1991, with Seymour Cassel and Castulo Guerra), The Truman Show (1998, with Ron Taylor, Tony Todd, and Al Foster), Austin Powers: The Spy Who Shagged Me (1999), Corky Romano (2001, with Tim Sitarz and Tyana Parr), Not Another Teen Movie (2001, with Ed Lauter, Michael Ensign, and James Read), The Third Wheel (2002), and Norbit (2007).
Miller has also guest starred in television series such as Riptide (1984, with John Anderson), Night Court (1988, with John Larroquette and Wendy Schaal), Quantum Leap (1989, starring Scott Bakula and Dean Stockwell, and guest starring Willie Garson and Richard Riehle), ER (1994, with Paul Eiding), Wings (1996, with Steven Weber and Mark Harelik), Seinfeld (1998, with Jason Alexander and Bahni Turpin), Melrose Place (1998, with Mark L. Taylor), Friends (1999, with Frank Novak), Charmed (2000, with Susan Savage), Becker (2000, with Terry Farrell), SpongeBob SquarePants (2003), and Scrubs (2007, with Ken Jenkins). She was a feature in The Medicine Show, and in 2001 Roy Joaquin made an appearance with her.
External links
Edit