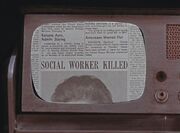 Jean Labeau was a French politician in the 1930s. He was a vice premier adm. and became foreign minister of his country on February 9th, 1930.
In 1930, a news report concerning Labeau meeting the US ambassador for the first time since he became foreign minister was printed in a New York City newspaper. The report was on the same page as a murder, and the death of a "local social worker" Edith Keeler.
This was one of the images Spock's tricorder recorded before he and Captain Kirk transported back in time. (TOS: "The City on the Edge of Forever")
The information about Jean Labeau was seen in a newspaper article on Spock's tricorder screen.