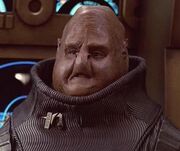 Jay M. Legett (9 August 1963 – 23 November 2013; age 50) was the actor, improvisational comedian and filmmaker who played the Hierarchy member Phlox in the Star Trek: Voyager episode "Tinker Tenor Doctor Spy".
Leggett was best known for performing on the sketch comedy series in Living Color during the 1993-1994 TV season. He also made guest appearances on such series as ER, Ally McBeal, The Drew Carey Show and NYPD Blue. His film credits include co-writing the 2004 comedies Without a Paddle and Employee of the Month, the latter of which he also co-produced. He had a supporting role in Employee of the Month, as well, as did DS9 guest star Paul Dooley.
Leggett collapsed and died while deer hunting in Tomahawk, Wisconsin, on 23 November 2013. He was 50.[1]
External links
Edit
Ad blocker interference detected!
Wikia is a free-to-use site that makes money from advertising. We have a modified experience for viewers using ad blockers

Wikia is not accessible if you've made further modifications. Remove the custom ad blocker rule(s) and the page will load as expected.