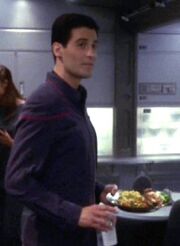 Jason Grant Smith is the actor who portrayed Crewman Fletcher in the pilot episode of Star Trek: Enterprise. He has appeared in several other television shows including 7th Heaven, with Stephen Collins and Catherine Hicks, Becker, with Terry Farrell and Bonita Friedericy, and Beverly Hills, 90210, with Jeffrey S. Jensen.
Smith also wrote, produced, and directed a 1999 film entitled Santa's Little Helper, whose cast included Tom Schanley.
External link
Edit
Ad blocker interference detected!
Wikia is a free-to-use site that makes money from advertising. We have a modified experience for viewers using ad blockers

Wikia is not accessible if you've made further modifications. Remove the custom ad blocker rule(s) and the page will load as expected.