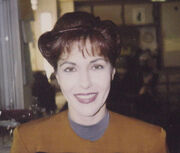 Jasmine Gagnier is an actress who appeared as a Starfleet officer in several episodes of Star Trek: Deep Space Nine. She reprised this part for the Star Trek: The Next Generation seventh season episode "Firstborn" in 1994 where she appeared in a brief scene alongside Armin Shimerman. Gagnier received no credit for her appearances.
Gagnier previously appeared in the sport comedy North Dallas Forty (1979, with Jim Boeke and Jane Daly) and had a recurring role as Sharon in the television series Knots Landing (1989).
Star Trek appearances Edit
(This list is currently incomplete.)
External link
Edit
Ad blocker interference detected!
Wikia is a free-to-use site that makes money from advertising. We have a modified experience for viewers using ad blockers

Wikia is not accessible if you've made further modifications. Remove the custom ad blocker rule(s) and the page will load as expected.