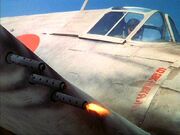 The Japanese Zero was a type of aircraft used by Japan during the Second World War.
The airplane was featured in the movie From Here to Eternity where Burt Lancaster's character shot several of them down. (DS9: "Far Beyond the Stars")
Captain Kirk and his crew experienced several hallucinations while on a lush planet during shore leave, which included being strafed by a Japanese Zero. (TOS: "Shore Leave")
The footage used in The Original Series for a Zero was actually an American F6F Hellcat painted to look like a Zero. Ironically, the F6F Hellcat was the Zero's primary adversary during the later half of WWII.
External link