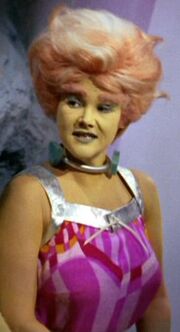 Jane Ross (9 January 1932 – 27 June 1985; age 53) was the actress best known for playing Tamoon in TOS: "The Gamesters of Triskelion". This was her only known television acting role.
Ross had previously made an uncredited appearance in the classic 1957 film The Sweet Smell of Success, alongside Lawrence Dobkin and John Fiedler. In 1968, she appeared in an uncredited role of a savage Human in the classic science fiction film Planet of the Apes, which also featured James Daly, Lou Wagner, Paul Lambert, Billy Curtis, and Felix Silla, and a musical score by Jerry Goldsmith.
Despite rumors to the contrary, "Jane Ross" was not a pseudonym used by Beatrice Arthur, and they were not the same person. [1](X)
External link
Edit
Ad blocker interference detected!
Wikia is a free-to-use site that makes money from advertising. We have a modified experience for viewers using ad blockers

Wikia is not accessible if you've made further modifications. Remove the custom ad blocker rule(s) and the page will load as expected.