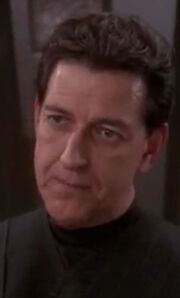 James W. Jansen (born 27 July 1945; age 72), sometimes credited as Jim Jansen, first appeared as Faren Kag in the Star Trek: Deep Space Nine episode "The Storyteller". He later portrayed temporal investigations agent Lucsly in the episode "Trials and Tribble-ations".
Interestingly, his character's name in "Trials and Tribble-ations" is an anagram of Scully's from The X-Files. Jansen appeared in the pilot episode of that series as Dr. Heitz Werber and reprised the role five years later in the episodes "Patient X" and "The Red and the Black".
In 2011, Jansen made a guest appearance on the NBC series Parks and Recreation, whose regular cast includes Adam Scott.
External link
Edit
Ad blocker interference detected!
Wikia is a free-to-use site that makes money from advertising. We have a modified experience for viewers using ad blockers

Wikia is not accessible if you've made further modifications. Remove the custom ad blocker rule(s) and the page will load as expected.