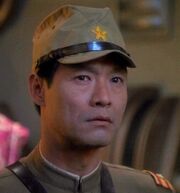 James Saito (born 6 March 1955; age 61) is an actor from Los Angeles, California who portrayed Nogami in the 1995 Star Trek: Voyager episode "The 37's".
Saito has appeared in many other television shows and movies. In 1984 he appeared in a deleted scene of The Adventures of Buckaroo Banzai Across the 8th Dimension, alongside numerous other trek stars, including; Peter Weller, Christopher Lloyd, Robert Ito, Clancy Brown, Vincent Schiavelli, Raye Birk, Jonathan Banks, Jessie Lawrence Ferguson, and Kevin Sullivan.
In 1990 he played The Shredder in Teenage Mutant Ninja Turtles along with Michelan Sisti, Josh Pais, and Brian Tochi
In 1997 he appeared in Devil's Advocate along with Vyto Ruginis, Nikita Ager, and Mark Deakins
Saito has also appeared in popular television shows Law and Order, Sex and the City, Miami Vice, and T.J. Hooker, the latter starring William Shatner.
External links