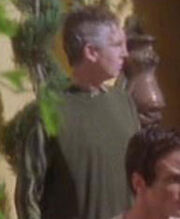 James R. Tweedell from Atlanta, Georgia, USA, is an actor who appeared as an alien bistro patron in the Star Trek: Enterprise first season episode "Two Days and Two Nights" in 2002. He received no credit for this appearance but was identified by the call sheet of the episode which is listing him as "4 MB Man". Tweedell filmed his scenes on Monday 25 March 2002 on Paramount Stage 9. He previously played two different Romulans in two episodes of Star Trek: Deep Space Nine.
Beside his work on Star Trek, Tweedell worked as background actor on films and television series such as Alien Nation (1989-1990, starring Gary Graham, Eric Pierpoint and Michele Scarabelli) and Batman Forever (1995, with Rene Auberjonois, Michael Scranton, Eileen Seeley, George D. Wallace, and Kevin Grevioux). He also appeared in Tupac Shakur's music video "Trapped" (1992) as a cop.
External link
Edit
Ad blocker interference detected!
Wikia is a free-to-use site that makes money from advertising. We have a modified experience for viewers using ad blockers

Wikia is not accessible if you've made further modifications. Remove the custom ad blocker rule(s) and the page will load as expected.