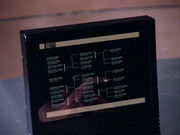 James Holt Raymond was a Human, and a progeny of Clare Raymond. He was the son of Sean Sweeney Raymond and Kelly Kroells Raymond. He had two brothers, one of whom was named Demitre Ganza Raymond. (TNG: "The Neutral Zone")
The name of this character was never mentioned in dialog; the name came from the remastered Clare Raymond family tree. His birth year, birth place, the name of one of his brothers, and death year were illegible.

James Holt Raymond was named for visual effects artist and digital compositor

James Holt

.