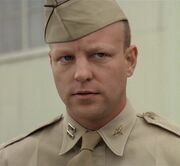 James G. MacDonald is the actor who played Captain Wainwright in the Star Trek: Deep Space Nine episode "Little Green Men".
Prior to his appearance in the Roswell-themed Star Trek episode, he starred in a 1994 television movie, Roswell, in which he played an Area 51 officer.
His first motion picture appearance was in the 1987 movie Some Kind of Wonderful. Fellow DS9 guest star Molly Hagan also starred. In 1997, he starred in Volcano, that also starred Jacqueline Kim, and Broken Arrow, which also starred Christian Slater, Casey Biggs, Bob Gunton, Vyto Ruginis, Kurtwood Smith, and Raymond Cruz. In 2002, he starred in Phone Booth, which also featured Josh Pais. MacDonald has also guest starred in Agents of S.H.I.E.L.D.
External links
Edit
Ad blocker interference detected!
Wikia is a free-to-use site that makes money from advertising. We have a modified experience for viewers using ad blockers

Wikia is not accessible if you've made further modifications. Remove the custom ad blocker rule(s) and the page will load as expected.